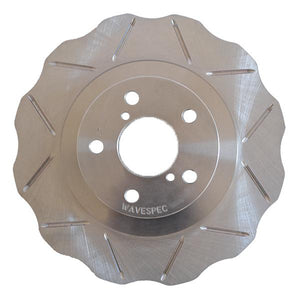 WaveSpec Sport Line Rotor - Rear - Honda/Acura - HON016SP
Regular price $59.18 Sale
Using the innovative WaveSpec rotor design and an economical casting, the Sport Line delivers excellent braking performance ideal for those looking to improve function and style on a budget.   Ideal for your daily driver and the occasional autocross.
For competitive drivers or those looking to beat on their brakes substantially harder than your everyday commuter, we recommend considering our Silver or Black line rotors.
All WaveSpec Performance Rotors are machined in the U.S.A.
The product photo is for display purposes only. Actual product may vary in size and bolt pattern, depending on your vehicle selection.
Rotors are listed individually - be sure to choose 2 from the quantity menu if you are purchasing a pair.

WaveSpec HON016SP rotors fit the rear of the following vehicles: 
1992 Honda Prelude
1993 Honda Prelude
1994 Honda Prelude
1995 Honda Prelude
1996 Honda Prelude
1986 Acura Legend
1987 Acura Legend
1988 Acura Legend