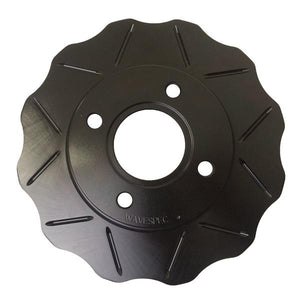 WaveSpec Black Line Rotor - Front - Tesla - TES002BL
Regular price $258.98 Sale
Black line rotors use a premium casting to provide the ultimate performance rotor. With Molybdenum, Chromium and a high carbon content, they offer increased hardness and temperature stability.  The result is a rotor that is well suited to the abrasive nature of racing brake pads and those found on European sports cars. Excellent wear resistance and stopping power make these ideal for high performance racing applications as well as sports and performance cars.
These performance rotors are coated in a high temperature coating resulting in a protective barrier that helps prevent rust and offers and sleek high-end look.  Also included in the coating are thermographic paint strips from Genesis Technologies that change color based on peak temperature reached.  This allows the end user to dial in the correct brake pad compound for the driving style and tracks these rotors are used on.
The product photo is for display purposes only. Actual product may vary in size and bolt pattern, depending on your vehicle selection.
All WaveSpec Performance Rotors are machined and coated in the U.S.A.
Rotors are listed individually - be sure to choose 2 from the quantity menu if you are purchasing a pair.
WaveSpec TES002BL rotors fit the front of the following vehicles:

2012 - 2019 Tesla Model S