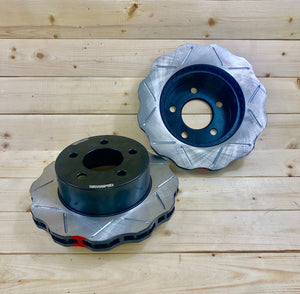 WaveSpec Black Line Rotor - Front - Jeep - DOT022BL
Regular price $134.88 Sale
Black line rotors use premium casting to provide the ultimate performance rotor.  With Molybdenum, Chromium and a high carbon content, they offer increased hardness and temperature stability.  The result is a rotor that is well suited to the abrasive nature of racing brake pads and those found on high performance cars.  Excellent wear resistance and stopping power make these ideal for high performance racing applications as well as sports and performance cars.
These performance rotors are E-coated in black and a thermochromic paint is applied to the rotor edge. The thermochromic paint allows you to match your brake pad temperature range with actual rotor temperatures. 
*Fitment note for 1999 Jeep Cherokee and Wrangler owners: there was a mid production year front hub and rotor change.  Before ordering these rotors, you need to measure the height of your current rotors with the rotor sitting flat with the hat up.  The measurement needs to be from the surface the rotor is resting on to the top of the hat.  There are two possible measurements: 3" or 3-1/4".  If using digital calipers, the actual measurements will be 3.070" (+/- 0.020") or 3.228" (+/- 0.020").  DOT022BL is a 3-1/4" tall rotor.
All WaveSpec Performance Rotors are machined and coated in the U.S.A.
Rotors are listed individually - be sure to choose 2 from the quantity menu if you are purchasing a pair.
WaveSpec DOT022BL rotors fit the  rear  of the following vehicles:
1998 Jeep Grand Cherokee
1997 Jeep Grand Cherokee
1996 Jeep Grand Cherokee
1995 Jeep Grand Cherokee
1994 Jeep Grand Cherokee
1993 Jeep Grand Cherokee
1992 Jeep Comanche
1991 Jeep Comanche 4WD
1990 Jeep Comanche 4WD
1999 Jeep Cherokee 3-1/4" Rotors
1998 Jeep Cherokee
1997 Jeep Cherokee
1996 Jeep Cherokee
1995 Jeep Cherokee
1994 Jeep Cherokee
1993 Jeep Cherokee
1992 Jeep Cherokee 4WD
1991 Jeep Cherokee 4WD
1990 Jeep Cherokee 4WD
1999 Jeep Wrangler 3-1/4" Rotors
1998 Jeep Wrangler
1997 Jeep Wrangler
1996 Jeep Wrangler
1995 Jeep Wrangler
1994 Jeep Wrangler
1993 Jeep Wrangler
1992 Jeep Wrangler
1991 Jeep Wrangler
1990 Jeep Wrangler